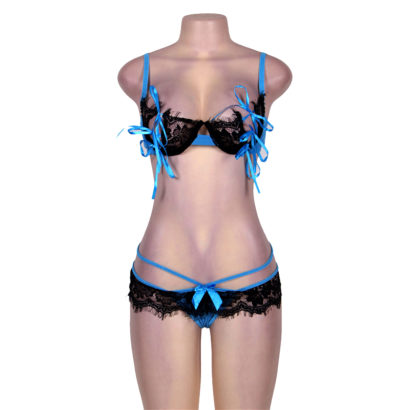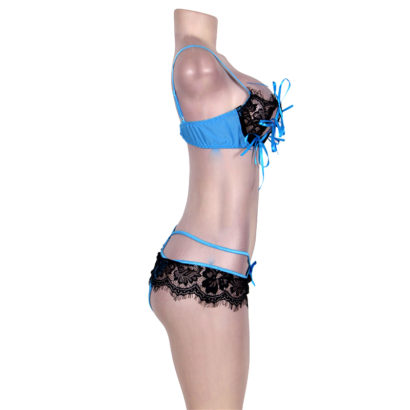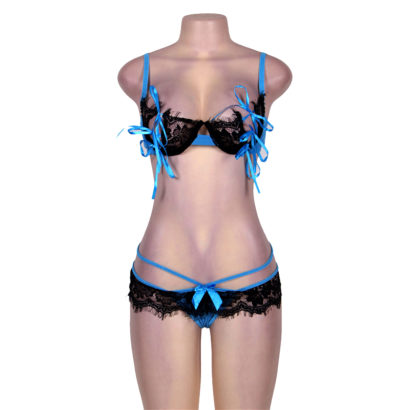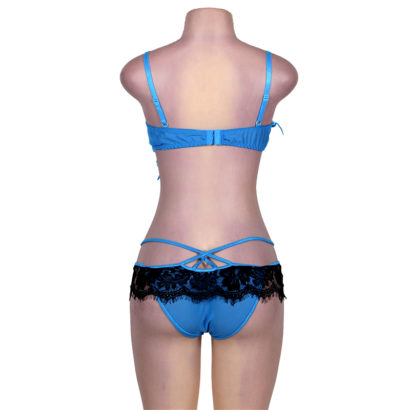 Blue and Black Lace Bra Set
Why wearing bra?
Protection from Sweating

: Wearing a bra protects you against sweating under the bust, which is the more likely cause of irritation and outburst of pimples.

Boosts Confidence

: With your Bra on, you can easily move around with confidence and avoid any awkward feeling or being overly self consciousness.

Avoid Pain

: If you are a woman with heavy bust, You can feel pain in your shoulder and chest. Bra provides a good support and keep you pain free by adding extra support.

Ease to move around

: Going bra-less can be called unprofessional. Walking could be difficult as your bust slaps on your chest. Bra provides you with enough comfort and support to move around freely.

Graceful Look

: With your bra on, your outfits fit well and provide you with a graceful look.

Enhance Cleavage

: When it comes to show your cleavage never forget to wear a bra as You don't have any other way to show your cleavage.

Good Posture

: Bra provides a natural support to your back bone to maintain a good posture.
Blue and Black Lace Bra Set
Lingerie is the ultimate passion of every single woman, the sensual link with her body, which makes her look stunning inside and out. When it comes to lingerie, we think much before choosing one. Lingerie tells a lot about a woman, especially her character, taste and the purpose for which she has chosen this or that particular piece.
Lingerie is the mirror of woman body beauty, charms and magic. Every woman has its own and unique beauty, you never find a woman similar to other, everyone has its own character, taste and inspiration.
How to choose your lingerie? Orderac will put some tips to help you
Make sure it fits well, and don't force sizes.
Focus on your best assets and hide the trouble spots. It's important that you feel great in your outfit, and it's hard to do that when you're adjusting straps, readjusting a thong, or scratching because your outfit itches. If you have tummy you can use corset which will give you more attention and extra lift.
Beauty Tip: To really draw attention to your legs and butt, smooth on some baby oil or other leg shine lotion. It'll really make you shimmer.
Don't wear anything that's complicated to take off.
The simple the lingerie is, the beauties you are. Try to wear simple lingerie to take off, don't lose your special time at taking of your lingerie, your man will be distracted, just keep him focus in your magic and fall on it as smooth as it.
If you want to have a gorgeous look never take panties separately and a bra separately. It is better to take the set together, so that to look neat and trendy. Or if the bra comes without panties then at least take your time to match a correct one. Take the panties in the same color as your bra or contrast ones and match the texture. You can have several matching panties of different shapes to one and the same bra.
Don't rely on past size, you may lose some weight or gain some, so be sure of your size.
For shorter, full-figured or curvy mamacita, slip on a short or long nighty with a slit on the side. This throwback sexy look will divert attention up and down, hoping to see where the slit will lead. Less-clingy, flowing fabrics and a cut such as a baby doll or empire-waist chemise are perfect ways to help take attention away from any areas you feel less comfortable with.
Other Orderac Women clothes products (baby-doll, corset, leggings, dress, sleepwear, plus size lingerie, beach wear, panties, bra, V-string, jeans, tops, underwear … etc)