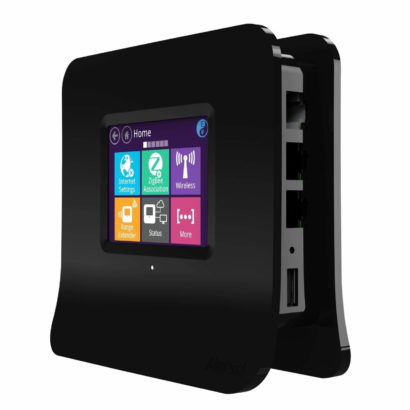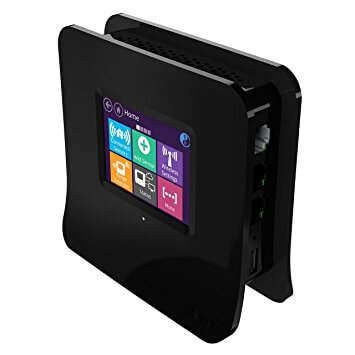 Securifi Almond WiFi Wireless Router / Range Extender / Access Point / Wireless Bridge – Works with Amazon Alexa
26.800 د.ك
95% of customers SET IT UP IN 3 MINUTES using Touchscreen Wizard; World's 1st TOUCHSCREEN Router
NO PC/Mac/CD needed for Setup or Management
MULTI PURPOSE USAGE: Use as primary WiFi Router or Range Extender or Access Point or Wireless Bridge – No built-in DSL modem
UNIVERSAL RANGE EXTENDER MODE: Compatible with any existing router (eg: Netgear, Linksys, Belkin etc.); COMPATIBLE WITH PC, Windows, Mac, Linux, iPhone, iPad, Android, XBOX

Almond is a revolutionary device that brought touch to Wireless Routers for the first time in history. No PC/MAC required for setup with all setup and maintenance available from the Almond's touch screen interface. It's nothing like any Router you've ever seen. As reviewed by the New York Times, CNBC, CNET and over 11,000 satisfied owners.
Revolutionary Touch Screen WiFi Router + Range Extender
Almond is the most intuitive Router and our 1st generation product that brings touch to Wireless Routers for the first time in history. For the first time, users can setup & maintain their router easily from its highly intuitive touch screen.You can avoid the cumbersome PC/Mac based setup that is common with other routers.
MULTI-PURPOSE: Use it either as a Wireless Router or a Range Extender / Repeater or an Access Point or a Wireless Bridge!
If you already have an existing router but are not happy with its range, Almond can help you extend its range wirelessly! also, It is compatible with most routers from Apple, Netgear, Linksys, Cisco, Belkin, Dlink, Asus, Verizon, AT&T, etc.
Almond can be used as a full-featured Wireless WiFi Router with speeds up to 300Mbps. Just connect it to your Cable/DSL/Fiber modem and follow the intuitive on-screen instructions to set it up. You can also connect your older devices (PC/TV) that only have Ethernet to a WiFi network.
SECURITY: Securifi takes Security very seriously. Unlike other routers, Almond is fully secure out of the box. Also, each Almond ships with a unique and random name (SSID) and password set at the factory. Almond default SSID's 'nomap' tag prevents your router from being recorded in Google's Location Tracking Database.
TECHNICAL SPECIFICATIONS:
Wireless Compability: 802.11bgn
Speed: 300Mbps MIMO, 2 antennas
Ports: 2 LAN + 1 WAN Ports
Power Supply: 5V, 1A
Port Forwarding, Firewall, DMZ, UPnP
Almond talks to Amazon Alexa!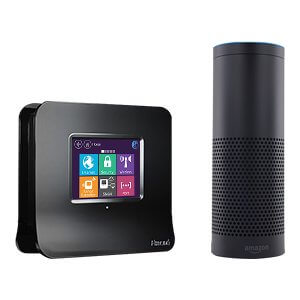 Now you can control your smart devices with voice commands through the Amazon Alexa.
The Almond pairs with Alexa so you can control Home/Away modes and Scenes you've created. For example 'Alexa, tell Almond to activate Movie Scene' or 'Alexa, tell Almond to set Home mode'. So yes, in a manner of speaking, you are able to talk to your house.
You can also manage your WiFi device with features like voice activated Parental Controls and Guest Networks.
What more? Have lights, switches, or thermostats unsupported by Alexa? Almond's seamless integration with Alexa Smart Home enables voice control for all these devices, as long as they are connected to Almond.